This is a shout out to all my milies; active duty, reserves, retired, widows, spouses, girlfriends, family, and friends! If you have not seen or heard about the
Homefront United Network
you need to get your booty over and check it out ASAP. It is an amazing place for anyone involved in or supportive of our armed forces in this great nation! They have articles on all sorts of great topics from how to deal with PTSD to recipes, to being a male military spouse, to fun tips and even how to properly fold a sheet. The possibilities for this site and the knowledge and information they offer are endless. It is an amazing place to go and connect with others who share a life similar to yours and gain support and companionship to help you through all the different things life throws at you. So seriously, check it out!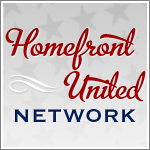 Also, they have a
facebook page
so if you are on facebook I definitely suggest you check that out.
Another exciting thing is that they recently accepted me as a new writer for the HUN and I am an administrator on the facebook page so from time to time you will see my name (Amanda) after a question or comment. I am so excited to be apart of such a great group, and can't wait to see what it does in my life.
My first article should be posted soon and when it is I will link it up for all of you guys!